NEWS
Thursday March 1st 2001:
I finally updated this page!
So what's up? Well, i've done 2 new picture galerie: one about Wildflowers and another about See Jane Run.
Here are some little news found on the net:
* Ghosts of Mars: I can't wait to see it.... It's very hard to find some info about Clea in this movie.. but i found this pic....
Last month i saw on french tv a report about ghosts of mars.. and i was very excited because Clea was in just 1 second....!!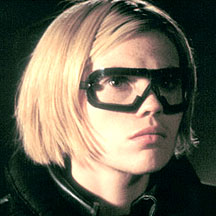 * New movies: She's in 3 new project.
1/ 13 conversations about one thing: with Matthew McCaunaughey... the shootage just ended... it'll probably released on the end of year.
2/The slaughter rule: with Kelly Lynch....
3/The Sororaty rule: With Natasha Lyonne and directed by illeana Douglas.... The shootage will start mid-april.
*And Clea was on the 15th episode of the fugitive.....
Saturday September 9th 2000
Last additions before back to school... 3 new interviews and some pics...
Sunday September 3rd 2000
I've joined the message board of the "Impression of Clea" fansite... I've moreover opened a message board in french...
Some interviews have been added....
Clea has signed the guestbook... no no it's not a joke i swear!
Thursday August 17th 2000
Hi everybody! Here are the news! The shooting of Ghost of Mars started August 12th and not 8th... It is told to be released around June 1st 2001....
Well here is the scoop of the day! And i'm proud to have find it! So August 7th Clea was contacted to play in Stripmall Bohemia a black comedy directed by Carey Schonegevel. Andie McDowell was also contacted... Here is the sory in a few lines: A handful of characters, all trying to find meaning and something to believe in, all wind up on Beaumont, Colorado, where, on one fateful night, their lives collide and are changed forever.......It's adapted from a Jathro Paris novel ...
Here are the new pics: updates 08/17/00
The fan club millenium would close if someone doesn't take it over. So let a message in the forum of the site http://members.tripod.com/~cleaduvall/
Monday August 8th 2000
Hey! today starts the shooting of Ghosts of Mars.. so as i write these lines, Clea is running with 3 guns in the hand! The movie will probably released on summer 2000... so we have to wait..
I've made a new page... Tapis rouge (red carpet).. it shows all pics from avant premiere...

Thursday August 3rd 2000
Ok i've decided to do my best with this english version of news page.... so if you detect a mistake please e-mail me....
So i try to summerize all news....
The new project of Clea is John Carpenter's Ghosts of Mars. She signed June 9th 2000. The cast also includes Ice Cube, Courtney Love and Pam Grier...You can read on the interview page an interview of Clea about this....
But July 21th the Hollywood reporter reported that Courtney Love has injured her ankle and will have sit the movie out. But unofficially it is told that this departure is due to tensions between Love and the production...
So there were lots of rumours about the Love's replacement. Famke Janssen (X-Men, The Faculty) and Michelle Yeoh (Tomorrow never dies) seem to have been contacted, but it is Natascha Henstridge (Species) who finally plays Melanie.
The shooting will start on August 8th in New Mexico....
It's all i know about that..
I also found lot's of new pics of Clea.. You can see them here